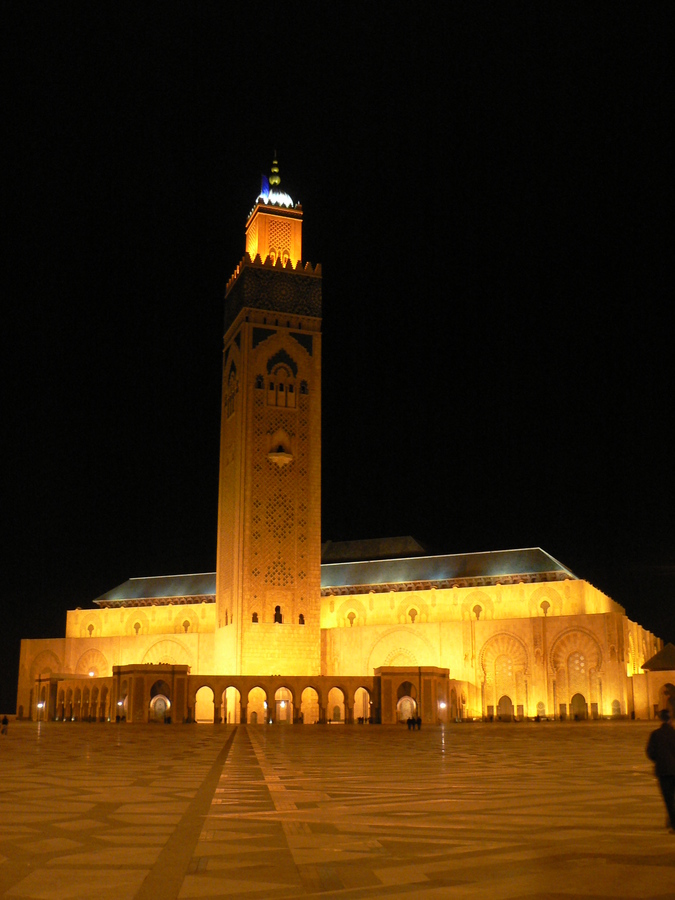 Trip to Casablanca

I was sent to Morocco in a rather haphazard way — "go there and fix the issues but without any support and pressure". I have never been there, but why not. After filling a lot of company forms, since
Morocco is mildly red flagged for business travel I clicked on some images of Morocco. The cultural briefing from a colleque in business issues advised proceeds with utter caution. Plus was it was
a fall visit to avoid the heat and crowds of the summer. Mention Casablanca to most people and they'll undoubtedly think like me of the classic film. In real life, however, Casablanca is the largest city
in Morocco, as well as the country's economic capital. Casablanca is home to the headquarters and main factories of leading local and international corporations, as well as being Morocco's main
industrial zone to which I headed (the old one).
During the visit I learned also, that Rick's Cafe, the mythical saloon from the 1942 film "Casablanca" was moved from celluloid to a nice tourist trap. I'd never been to Africa before, but in quite a few
Arabic countries. Nevertheless I was not really looking forward to this trip but would be pleasantly surprised from the laid back city and from the fair local business conduct of my colleagues.
I traveled for 12 hours door to door to get from my office to the Hotel City Novotel Center in Casablanca. The flight was delayed due to fog in MUC, and I just could reach the gate before the
three-hour flight to Casablanca took off. This flight sat then more than one hour on the runway because of night flight restriction. Once I landed I went through a reasonable friendly customs check
(fast at 2 am) and then was picked up by the hotel service.
The Hotel City Center was perfectly fine for business purposes, professional service, good food, reasonable lounge, centrally located and last but not least good WLAN everywhere. The hotel is
located right to Porte Casa in an area that supposedly isn't the safest at night. I walked around outside a few blocks, and security wasn't an issue. More its blandness. The hotel got a great panoramic
view of the city. I could see the Hassan II Mosque in the distance, as well as wide boulevards lined with palm trees and the big construction of the new harbor terminal built by a French company. They
got the deal by giving away train on French taxpayer's money, because they build also a new train track and station.  After breakfast I headed out to for first meeting in our subsidiary in Casablanca.
First cab driver, the usual petit taxi asked twice the fare but found the company without any problem. This was a wise decision, because next time I had only a 50% success rate. Actually quite simple
to find, it's the N2 to Rabat km 1. Problem was, I do not speak Arabic and they no English and very little French and they often mistook my multinational employer for a local mattress company. When I I
shared the cab with fellow Casablancans – nice feature – they often translated from English or French. Getting smarter I used a Google map print out, when riding alone to my office.
Weather-wise I expected mild weather, but around 8 a.m. to 5 pm the weather was the whole week perfect: upper 60's, sunny and breezy. In the evening I noticed a lot of locals in jackets and
sweaters, and bought a simple leather jacket in the night market after 10 minutes negotiating. In the market, they speak good English in addition of being three lingual (French, Arabic, Berber Dialect
– Morocco's cultural roots). European influence has been strong here, in Morocco's largest and most modern city. In fact, there was quite a wide variety of clothing — there were women in black robes
and head scarves, but also some with modern dresses and uncovered hair. The men wore everything from jeans or business suits to traditional robes. French dress code in the office, meaning well
dressed was seen often. Clearly working with my Moroccan colleagues was pleasant and successful.
As usual I picked up more local information and cultural context than during a holiday visit, even as I did not have time to visit sights. Casablanca is not a tourist city, and I did not see much more what I
could pick up from the cab window. The History of Morocco spans over 12 centuries, without considering the Classical antiquity. The arrival of Phoenicians heralded many centuries of rule by
foreign powers for the north of Morocco. By the 5th century BC, Carthage had extended its hegemony across much of North Africa till the 2nd century BC, when
several large, although loosely administered, Berber kingdoms had emerged. But after the fall of Carthage, the area was annexed to the Roman Empire until in
the 5th century AD, the region fell to the Vandals, Visigoths, and Byzantine Greeks. Christianity was introduced in the 2nd century but in the 9th century Arabs conquered the region in the 7th century, bringing their civilization and Islam, to which many of the Berbers converted.  In discussion with colleges there I could feel still some reservation of Berbers against Arabs. In the 740, the Berbers revolted against Arab rule. I was astonished, how vivid history is even after 1300 years.
The Berbers seemed to have shaped Islam in their own image – some in connection with radical puritan sects, others with synergetic faith which was simply folk
religion thinly disguised as Islam. As the "wild west" of the Islamic world, Morocco quickly became a haven for many dissidents but in 965 Morocco was invaded
one last time. In 1956, after 44 years of occupation Morocco regained independence from France as the Kingdom of Morocco. Independence Day is November
18th, as I encountered working there on the 65th anniversary.
I was hoping for time to visit at least the famous Hassan II Mosque — one of the only mosques in the country that are open to non-Muslims. It did not really happen during the day but I did, however,
eventually go by cab one night on my expense to the mosque, which was breathtaking — huge and clean and brilliantly decorated with exquisite blue and green mosaics. Perched on the edge of t
he Atlantic, it was built in 1993 at the behest of King Hassan II, paid for by an involuntary tax on every Moroccan citizen and a slum was razed to make space for the mosque, which was also built on
reclaimed land. Almost half the mosque lies over the Atlantic Ocean.
From the outside, I could only see a 210 meter minaret (tower), from which spotlights shine at night in the direction of Mecca. Close by is the Boulevard de la Corniche, a boardwalk fronting the Atlantic where many of the city's beaches, cafe and restaurants can be found.
On Friday night I headed back to the Hotel to catch a cab to the airport for my after midnight flight. The ground stewardess who checked me in invited me in the VIP lounge with good scotch. So I slept all the way back until the captain banged the aircraft on the airstrip in FRA once again delayed flight. Back to Germany again, that feels via Frankfurt more like former East Germany with unfriendly and lousy service.