My Maui Volcano (Haleakala) Drive Guide page started 2 am to get to the summit after the crater has become obscured by clouds. Cold and dark.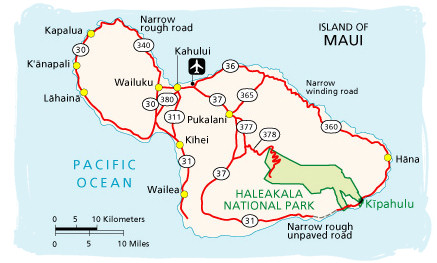 We made this an early morning trip because the clouds usually flow through the crater late morning. Better to overcome some resistance to an early morning departure to get out of the bed, than to arrive late to the summit and not being able to view a crater obscured by clouds. We needed over two hours to drive from the west Maui area (Lahaina) to the summit of Haleakala. You want to leave early in the morning to beat the clouds to the summit.
Haleakala Crater Road Drive Map & Directions
Haleakala Crater Road drive map and directions as you approach Haleakala National Park:
• Use the general Maui drive map in the section above to get you to the general area of Haleakala
• Use this Crater Road map to orient you when to turn from State Highway 37 onto Highway 377, also called Haleakala Highway.
• Then turn from Highway 377 onto Highway 378, also called Crater Road. Be careful as you navigate the constant switchbacks during the steep ascent along Crater Road to the volcano summit.
Drive time for this ascent along Crater Road (in clear weather, excluding stops) is about an hour of the 90 minute time listed above for the drive from Kahului to the volcano summit.
I had to concentrate on the road and oncoming traffic during the ascent and descent. There are only a few vistas with limited parking that allow you to pull off the road and admire the view.
After the Visitor Center, we drove straight up to the summit and admire the beautiful unobstructed crater view. Here are the pictures done with an EOS 650. Due to to change of wifes I had to scan the pictures since I do not have the negatives anymore.