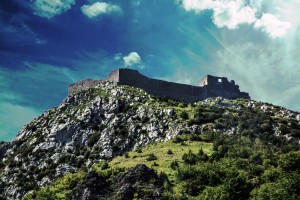 This year we travelled through the haunted and magic Languedoc-Roussillon, where I followed the footsteps of the Esclarmonde de Foix and the heretic Cathars. In Languedoc-Roussillon Cathar castles, Templar Abbeys and Châteaus inspire powerful myths, major mysteries, complex religious history, symbols of psychological relevance and – also significant pseudo-history. There are lots of stories about the Crusades and the mysteries of Sacred France connected to it. Or, as in the case the holy Grail, downright fabrications and conspiracy theories. So my journey became a transformational journey visiting places with magic and mysticism in addition to hiking, camping and photographing. I choose as base camp a wonderful Bed&Breakfast in sight of the last Cathar stronghold Montségur and close to Foix. Catharism holds all those secrets, and more, the egnima of Catharism can be felt still in southern France.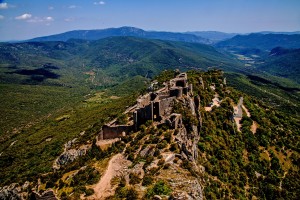 We stayed in sight of Montségur's castle, in the hamlet of Mijanes, which is situated 650 m above sea level in a clearing at the end of a small road. The house is an old stone farmhouse, beautifully restored in order to preserve the built's authenticity. At street-level, the old hay barn completely open to the south, gave the opportunity to develop a large community room with separate entrance and fireplace. Very bright, it opens onto a gallery with large sliding doors. Two hectares of meadows surround the house with lots of room for sheep, chicken and a dog called Hector. After a few tries, he got along with our dog. Around, the forest offers beautiful walks and the lack of light pollution nice astronomical pictures and nice sights of the sunset over Montsegur.

The house has "only" room for two guests, its wall of the rooms' corridor is fully dressed with a bark and natural pigment wallpaper from New Caledonia. The other room was occupied by a French couple, a writer and a retired teacher, who we met during breakfast. The writer happened to be Jose Dupre, who wrote about the German anthropologist Rudolf Steiner, Catharism and Déodat Roché, with whom he maintained a close relation and friendly collaboration during nearly 10 years. Not only a writer, but an expert in his field.