The 64bit MX716 Driver Package package contains 64bit  drivers for the Starlight Xpress  MX716 CCD camera from  official Starlight Xpress website. The camera is now 15 years old, but works fine -and –  Starlight Express still supports it (Official Web Site).  SX Ltd has been in business since 1991 and was set up to market CCD camera designs originated by the amateur astronomer, Terry Platt.  I think, they have still a fiendly friendly, responsive and helpful team.
While the camera is great, the driver  installation on XP can inflict some pain. According to  Starlight Xpress Support the HID devices have to appear first in the device registry. That means you may have to disable other HID devices, otherwise the camera would not be recognized, even if everything has been installed correctly. On Windows 7, however, everything was smooth.
This is my experience report installing and to use these drivers. The driver package you downloaded should include the following files:
– WdfCoInstaller01007.dll
– WinUSBCoInstaller.dll
– WUDFUpdate_01007.dll
– BlockIO.inf
– BlockIO.dll
– MX716Loader.inf
– MX716Loader.dll
– 05472131.HEX
–  readme (on which this text is based on.
DO _NOT_ use windows update to locate drivers for the Starlight Xpress USB1.1 interface, doing so will likely result in the wrong drivers been downloaded and installed.
The following installation instructions will cover installing the drivers and firmware files needed to use the MX716 with the USB1.1 Interface box with the Starlight XPress software and  AstroArt4 compatible with the original Startlight XPress firmware.
1 – Connect the USB1.1 interface (do not plug into mains at this time)
2 – The "Found new hardware" dialogue should appear.
3 – Select "Ask me again later / Skip search"
Failure to do this, may result in windows downloading an unsuitable
driver via windows update. Refer to the "Windows Update Troubleshooting"
section if you have already done this.
4 – Open the "Device Manager" found in the Control Panel
5 – Locate and expand the "Other devices" section. You should have an unknown
device entry. Right click on the device and select properties.
If you have more than one unknown device listed, locate the correct device
as follows. On each device in turn, right click and select "properties". In
the details tab, select the "Hardware IDs" property and look for an entry
with the VID 0547 and PID 2131.
6 – In the "General" tab, select "Reinstall Driver"
7 – You should be presented with the option to either search automatically for
an updated driver, or "Browse my computer for driver software". Select
the Browse my computer option.
8 – Click Browse and locate the folder you extracted the drivers to (the one
that contains this readme_first.txt file) then Click Ok and then click
NEXT.
9 – You should now be presented with a RED Windows Security box stating that
it cannot find the publisher. Click Install this driver anyway. Windows
will now install the first of the two drivers, this may take a few minutes.
10 – Device manager should now show a temporary MX716Loader group with a single device
"Starlight XPress Empty USB1.1"
11 – Copy the 05472131.HEX file to c:\Windows\System32\Drivers\
12 – Unplug the USB device, wait 10 seconds and reconnect.
13 – When the find new hardware dialogue appears, again select "Ask me later"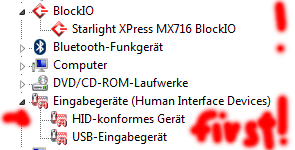 14 – The device manager should have a "BlockIO" device listed in "unknown devices"
Right click, select update drivers software.
15 – Select browse my computer for driver software, the search location should
already be correct, click Next and again select "Install driver anyway"
when prompted about signing.
16 – Device manager should now show three new devices
Human Interface Devices\HID-compliant device
Human Interface Devices\USB Human Interface Device
Starlight Xpress MX716 BlockIO
17 Done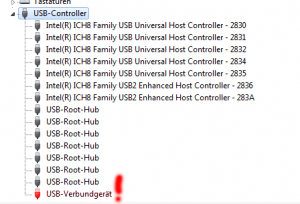 Technische Daten:
The MX716 is a Starlight Xpress product and offers exceptionally high QE and STAR 2000 self-guiding capability.
The ICX249AL, as used in the MX716, is a interline imager – the 'EXview' CCD, which has good quantum efficiency which significantly exceeds that of the Kodak 'Blue plus' process used for the KAF series of CCDs throughout the visible and infrared spectrum. The fundamental QE is of the order of 70% from 650nM to 470nM, and compares well with the 40-50% of earlier devices.
The MX716 camera specification:
• CCD type: Sony ICX249AL EXview CCD with ultra low dark current and vertical anti-blooming.
• CCD pixel data: Pixel size: 8.6 x 8.3uM, image format 752 x 580 pixels
• CCD size: Imaging area: 6.47mm (horizontal) x 4.83mm (vertical).
• Spectral response: Peak response at 590nM, 30% at 400nM (Violet) and 70% at 670nM (Near infra-red).
• Quantum efficiency: Approx. 65% peak at 590nM.
• Readout noise: Less than12 electrons RMS – Parallel Port,
• Full-well capacity: Greater than 70,000 e-
• Anti-blooming: Overload margin greater than 800x
• Dark current: Dark frame saturation time greater than 100 hours. Less than 0.1 electrons/ second at +10C ambient.
• Data format: 16 bits.
• Computer interface: 8 bit unidirectional parallel port with bi-directional status lines (Standard
• Centronics interface). 25 pin 'D' style plug for LPT1, 2 or 3, via a 5 metre x 6mm diameter cable,
• Image download time: Typically 12 seconds with a 200MHz PC and 'Fast Interface' module.
• Power requirements: 115VAC / 240VAC @ 12VA, or 12VDC @ 750 milliamps max.
• Cooling system: Regulated constant-current cooling supply built-in. Single-stage thermoelectric cooler to give a CCD temperature of approximately -30C below ambient.
• Size: 50 x 100mm black anodised aluminium barrel with M42 thread at CCD window end and
• 15 way 'D' style input plug at rear.
• Weight: 200g.